MSC - Lirica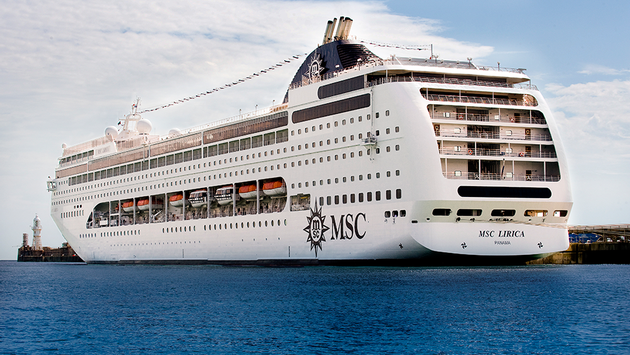 Pick up : From Dubai
Duration : 12 Days
Dubai+1-Abu Dhabi- Sir Bani Yas- Khasab-Muscat-Bahrain-Doha- Dubai+1
Day 1: Arrival
You will be met and greeted by our representative and then be transferred to your ship in Dubai within modern and air conditioned vehicle.
Day 2:Dubai City tour
Tour starts when your guide driver meets you up by the cruise exit door then you move to visit one of the modern Dubai highlights which is Jumeirah mosque (from outside) in which you can discover and learn about Islamic marvelous architecture style and rich decorations of Islam spirit, after the end of visit you continue along the Jumeirah beach road,
This is the most luxurious urban area in Dubai. We pass in front of the Mercato
Themed shopping mall and stop for photographs at the famous Burj Al Arab (Arab Tower) Hotel one of the fanciest hotels on the planet.
After that you will head along the skyscraper area of Sheikh Zayed Road, also referred to as little Manhattan, where we pass by the Emirates Towers and Dubai World Trade Center two of the most famous landmarks of modern Dubai.
Then we drive along the Zabeel road, passing by the palace of Dubai ruler and builder Shiekh Muhammad Palace and also Sheikh Rashid Palace. Then to pass the Dubai creek to have a photo stop there. And also we pass by the Al Bastakiya's old-wind tower houses, which were built by the wealthy merchants of the past.
The next stop takes us to Dubai Museum which is built on ruins of famous fort of Fahidi fort.
Museum is the 200 year-old restored Palace of Sheikh Saeed,
Then tour continues to the Abra station, where we will take an Abra (water ferry) to cross to the opposite side of the creek, to have quick shopping tour in Dubai souks and bazaars.
By the end of tour you will be back to your cruise.
Remark: Any other tour from Dubai can be substituted with extra coast depend on trip and Participants
Optional: Afternoon Dune bashing safari (55 $ per person)
Marine dinner cruise based on open Buffer (60 $ per person )
Day 3:Abu Dhabi City tour
Meet your tour guide by cruise exit door to start your trip to Abu Dhabi, the capital of the UAE, which is situated about 170 kilometers south-west of Dubai.
The first landmark on the tour you will already reach before entering the city center of Abu Dhabi the Sheik Zayed Grand Mosque. This place of worship is also Abu Dhabi's main tourist attraction and the impressive white complex and minarets can already be seen from far away. Before entering the mosque ladies will be asked to dress up in the local dress, which will be provided at the entrance. Once inside the mosque you can admire the amazing marble art work as well as the largest woven carpet of the world.
Then you will proceed to the city center. Many of the city's striking examples of modern architecture show fascinating interpretations of Islamic themes captured in today's materials. A reminder of the historical past is the renovated AL HUSN PALACE – now home of the Centre for Documentation and Research. A drive along the beautiful Corniche gives a magnificent view of the city. At the end of that road you will pass the Emirates Palace Hotel, which is an outstanding 5* deluxe property and favorite place for royal weddings and celebrities.
Finally you will enjoy a short and quick visit to the Marina Mall before returning to your ship.
By the end of the day you will drive back and be dropped off by your cruise

Remark: Any other tour from Abu Dhabi can be substituted with extra coast depend on trip and Participants
Optional: Ferrari World with Abu Dhabi tour 120 USD per person minimum 4 Persons required
Day 4: Sir Bani Yas
Free day at leisure
Day 5:Khasab : Half Day Dhow Cruise with refreshment (04 Hours)
Timing: 09:30 Am – 01:30 Pm / 01:30 Pm – 05:30 Pm
Half Day Dhow Cruise to Khor Sham in azure waters, through a majestic fjord (Khor), surrounded by spectacular mountains and serene remote white sand beaches. At the entrance of the fjord our guests can enjoy dolphin watching. The Dhow will anchor at Telegraph Island during the cruise for swimming and snorkeling in pristine waters teeming with friendly colorful fish. We offer our guests soft drinks & Fruits during the day. All snorkeling equipment is included. The Fjord is totally 16 km and for the Half Day Trip we will cover approx. 10 km.
Day 6: Muscat City tour (Mystical Muscat )
The tour starts with a visit of the Grand Mosque, standing in stately grandeur. A visit to this beautiful piece of architecture is a must for all tourist (open daily for visitors, between 0800–1100 Hrs, except Fridays/holidays) Dress code – Women should wear attire covering their arms and legs and should cover their head with scarf. Men should wear normal shirt and trousers), From here move on to the Fish and vegetable markets in Muttrah. Feel free to mingle with the crowd. Visit the Muttrah Souq where you will find a mix of old and new. Sights, sounds and fragrances are in abundance. You then proceed past the Corniche and to the capital area before you take a photo stop at the Sultan's Palace flanked by the 16th Century Portuguese forts of Jalali and Mirani. You visit Bait Al Zubair Museum for a fine display of Omani culture and history. End of Tour.
Remark: Any other tour from Muscat can be substituted with extra coast depend on trip and Participants
Day 7 : Muscat
Free day at leisure
Optional: Choose from Wadi Shab trip or Jabl Shams trip or Wahiba and Wadi Bani Khaled trip or Nizwa full day trip or Jabl Akhdar trip
Day 8:Mina Sulman , Bahrain
Free day at leisure
Day 9: Doha City tour
After arrival, you will head for the atmospheric Souq (Souq Waqif) in 'Old Doha", which is one of the most bustling areas of the city. Evolved from a weekend market where the Bedouins traded meat, wool and other products, it is now a maze of narrow alleyways filled with small shops, with goods piled high to the ceilings and spilling out onto the pavement, and with separate sections selling dress, tools, general hardware, spices, incense, Arabic perfumes, sweets and dried fruits. Highlights are the Falcon Souq as well as the Gold & Diamond Souq and the Spice Street & Animal Souq. Next, you will reach the MIA – the Museum of Islamic Art, putting Doha on the world art scene. The Museum of Islamic Art is aiming to hold the largest collection of Islamic art in the world - a bridge from the past to the future of artworks dating from the 7th to the 19th century, representing the full scope of Islamic Art. It includes manuscripts, ceramics, metal, glass, ivory, textiles, wood and precious stones from three continents. After the visit to the museum you will reach the port.
Day 10:Dubai Marina Dinner Cruise
An intriguingly different view of this amazing city – a portrait of the new character of Dubai and the 8thWonder of the world, The Palm island
The Dhow is located at the west side of Dubai Marina Yacht Club. After departing from Dubai Marina Yacht Club, we will be cruising at the Dubai Marina channel with Dubai Marina on one side and the Jumeirah Beach Residence's on the other side.
You will have amazing views of all the attractions and landmarks in that area.
Then, we will enter the Palm Island where you will be able to see the buildings and villas of The Palm Island as well as the Atlantis Hotel on one side and the beach resorts on other.
The Burj Al Arab Hotel will also be visible across The Palm.
Day 11:
You will be met and greeted by our representative and then be transferred to Dubai Airport or hotel within modern and air conditioned vehicle.
Rates:
| | | | | | |
| --- | --- | --- | --- | --- | --- |
| 1 Person | 2 Persons | 3 Persons | 4 Persons | 5 Persons | 6 Persons |
| 1150 USD | 700 USD | 550 USD | 500 USD | 450 USD | 400 USD |
Rate includes:
- Met and assist from Dubai Airport to your ship upon arrival and departure.
- Dubai City tour / private base for more relaxation .
- Abu Dhabi City tour / private base for more relaxation.
- Muscat City tour / private base for more relaxation.
- Doha City tour / private base for more relaxation.
- Khasab Half Day Dhow Cruise with refreshment.
- Marina dinner cruise with International Buffet Dinner with Veg & Non Veg dishes.
Rate excludes:
- Any optional trip mentioned (extra cost) .
-
&a