TOUR FATIMAť | 2 Days Tour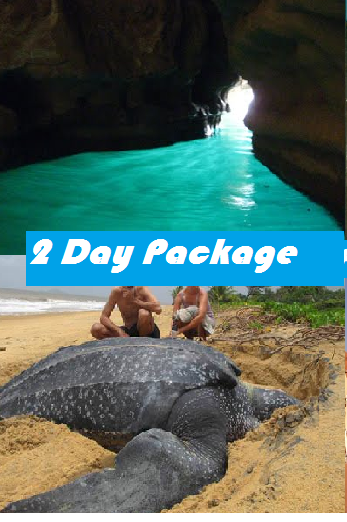 Pick up : From Any place in Muscat
Duration : 2 Days
TOUR FATIMAť | 2 Day Tour
Bamah Sinkhole - Wadi Shab - Ras al Jinz - Sur - Wadi Tiwi - Qalhat
Day 1
The tour departs Muscat in the morning towards Sur. After a photo stop at the Bamah sinkhole (swimming in the sinkhole lake is possible) and the long white Beach of Fins, we arrive in Wadi Shab. This Wadi is a enormous canyon gorge that is lined with
palm trees and impressive indications of what the power of the water coming down from the mountains can do in nature.
With a 45 minute hike up through the canyon Wadi, we arrive at one of several crystal clear water pools. Tourists can swim on through the warm waters from pool to pool. Eventually we come to the last pool where an opening among the enormous rocks allows us to swim into an incredible crevice cave with a small waterfall. Inside, the sunlight filters in from the outside, turning the water into a beautiful turquoise blue whilst water showers down one side of the cave from the wadi beyond.
The tour continues to Ras al Hadd. After check-in into our Hotel/Camp, we take you in the evening to the Turtle sanctuary in Ras Al Jinz. Here we will go on a guided beautiful walking tour on the beach at night under the stars, where we have a high chance of seeing Oman's great sea turtles stumbling on to the beach to build a nest and lay their eggs. If you are lucky, you can even see baby turtles hatching from some nests.
Overnight in Ras al Hadd.
Day 2
After breakfast, we continue on a sightseeing tour in Sur, one of the most important towns on the northern Omani cape. One of the last Omani shipyards is situated in Sur and visitors will be taken to see one of the small workshops where Omani traditional boats are still manufactured by hand. The unique scent of the wood being carved in the workshop stays with us as the tour heads back north to Wadi Tiwi. This Wadi is especially pretty with some small villages and the large banana plantation found here.
Leaving Tiwi, the tour makes a stop at the 16th Century tomb of Bibi Al Din, built by his wife, Bibi Mariam and the site of the ancient village Qalhat. This city was allegedly described by Marco Polo and also visited by the Moroccan traveller, Ibn Battuta in the second quarter of the fourteenth century, as in those times, Qalhat was one of the more important cities in Oman and had maritime control over Hormuz.
After a brief visit, the tour returns to Muscat.
INCLUDES:
accomodation
breakfast/dinner (depending on hotel)
english speaking driver/car
water/softdrinks
entrance fees