Nizwa Full Day tour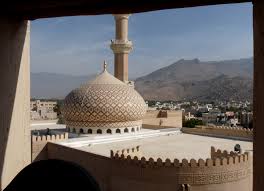 Pick up : From Any Place in Muscat
Duration : 8 HRS

Discover your tour in video by clicking Here
This tour takes you first to Nizwa, the old capital of Oman. The Nizwa Souq is among the largest of its kind in the country. A wide variety of vendors offer their goods in the streets of the souk from 05:00 am to about 10:00 am each morning. Here you can find fish, meat, vegetables, pottery, jewellery, handicrafts and souvenirs which are sold in authentic old market halls that few places can boast. Especially interesting is the Friday cattle market, when the locals from the nearby villages come to sell their donkeys, goats, cattle, sheep and chickens in a circus style open market place.
Next to the Souq is Nizwa Fortress. The fort is a museum today and offers splendid views of this ancient town and the surrounding mountains. You can walk around in this impressive fortress and visit its many rooms, passages and towers. The fort is an architectural testimony to the economic and military achievements of the early Yaruba dynasty from the mid-17th century. It was a military stronghold designed to withstand even the strongest of attacks at the time. Even along the corridors, many traps were laid to deter any intruders that might have penetrated the defences.
Then we drive to Al Hamra, to visit the old village and see the tradition homes their,
Then we move on towards Misfath al Abreen. This picturesque village lies on a steep slope at the foot of Jebel Shams, a few kilometres from the village of Al Hamra and consists of old homes and narrow streets. It has a large Falaj system which supplies water for many orchards, date palms and vegetables. It is worth to spend at least 1 ½ hours walking around the village. There are marked footpaths through the village and surrounding area. In the late afternoon we drive back to Muscat.
Rate Chart

Prices per Person in USD

Tour Description

2 Pax

3 Pax

4PAX




Nizwa Full Day tour


USD 185.00

USD 13500

USD

105.00
Child Policy
§ 50% discount per child between 4 - 12 years. Infants Free of Cost.
Cost Includes:
§ Picnic lunch or lunch at local restaurant
§ Soft drinks and entrances to fort
§ Services of an English-speaking driver cum guide.
Additional cost will be applied for French, Russian, German or other foreign language-speaking guides.
Supplement charges
Supplement charges for language speaking guides is USD 90 for a half day tour and USD 140 for a full day tour (These rates are to be divided among the number of pax).