Half day tour Splendours of the East :Salalah Tours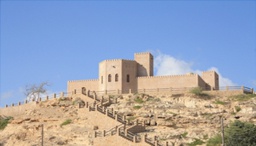 Pick up : From Any place in Salalah
Duration : 4 Hr
Half day tour Splendours of the East :Salalah Tours
what to do in Oman ...!!!! this is one of the rich tours among Oman Day Tours .Visit Oman ,Drive towards east. On the way to Taqa, you will pass by the Royal Farm and Marmura House. Taqa village is known for Dried Sardines, traditional & old Dhofari Houses. A very interesting castle can be seen here in this spot ,which was the formal official residence of the Governor of taga village long time ago & obtain a glimpse into the rich history of this area.

To the East of Taqa lies the ruin of Sumhurum (Khor Rori), The city was the easternmost outpost of the Hadramawt Kingdom on the ancient incense route between the Mediterranean Sea, Persian Gulf and India. Khor Rori was an important port on the coast of Dhofar, and one of the major trading cities with frankincense, believed to have been the hub & harbour for the shipping of Frankincense (UNESCO World Heritage site) this place is believed to be the palace of the famous Queen sheba.
A drive along the coastal road leads you to Mirbat the old city of Arabian horses and Slave trade. Now you will have a photo stop at Bin Ali tomb (dates back to the 14th century), passing by Mirbat Castle and the Old Merchant Houses, then heading to Salalah, . The last stop will be at natural spring of Ain Razat "a beautiful park surrounded by hills" located At the foot of the Qara mountains.
| | | | | |
| --- | --- | --- | --- | --- |
| Rate Chart | Per Saloon Car | Per 4WD | Per Coaster | Per Coach |
| Tour Description | 03 PAX Maximum | 04 PAX Maximum | 20 Pax Maximum | 45 Pax Maximum |
| Half day tour – Splendours of the East | USD 180 | USD 280 | USD 550 | USD 1150 |
Rate includes
1- Transportation A/C vehicles as mentioned in the itinerary
2- English speaking driver / guide
3- Soft drinks and mineral water during the excursion
Rate Excludes
1- Entrances to Forts, Museums & Historical Places .
Supplement Entry Fees to Forts / Museums /Historical Places

Per Saloon Car

Per 4WD

Per Coaster

Per Coach

Samharam (Applicable During Salalah East Tour)

03 PAX Maximum

04 PAX Maximum

20 Pax Maximum

45 Pax Maximum

N/A

N/A

USD 155

USD 305
| | |
| --- | --- |
| Supplement Meal Rates | Per Person Rate |
| Lunch at local restaurant | USD 30 |
| Dinner at local restaurant | USD 30 |
| Sea Food Dinner at local restaurant | USD 35 |
| Picnic Lunch | USD 25 |